About HOD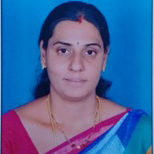 Dr. P. Sunitha
M.Tech,Ph.D
I congratulate all the students, who opted for Computer Science and Engineering branch. Engineering is a human activity aimed at creating new artifacts, algorithms, processes and systems that provide services to humans. An Engineering seeks to create something that never existed. It is a privilege in any ones career to embark on engineering education.
Computer Science and Engineering is a one of the evolving, Innovating and emerging, broadest engineering discipline. It deals with human interaction with computers, softwares and networks with internet activities to make the communication process possible globally through World WideWeb They are driving force behind any organization to extend the business online through out the world in simplified fashion.
Above all the project work give edge to the students to elaborate their problem solving and programming skills to mould the application to the industry standard. So that student can easily get acquainted in to the industry.
Achievements of HOD
| | |
| --- | --- |
| FD | 18 Years of Teaching Experience. |
| R&D | |
| No. of Publications | 4 |
| Conference/Seminars | 6 |
| Memberships | MIETE |
| Teaching Award | |
| Extra Curricular activities | |